The Local Digital Newsletter
3 October 2023
Welcome back to the Local Digital newsletter! In this issue, you can join one of our final Roundtable events to share your experiences and hear what's next for Future Councils. Plus, you can sign up for a webinar to hear insights from our Local Digital Evaluation Survey so far, and register for other sector events.
Updates from the Local Digital team
Find out what's next for Future Councils
We hosted our first event in Leeds on Wednesday 27 September with 17 councils in attendance. The councils shared their experience and insights, whilst we discussed what we've been working on and what's coming next for the programme.
We still have two upcoming events where we'll share more of what we've learnt, and talk through the problem statements in detail:
Wednesday 11 October, 9:30am to 4pm - 18 Smith Square, London
The London event is now full but please email futurecouncils@localdigital.gov.uk if you are interested in attending this event. We will then contact you if spaces become available.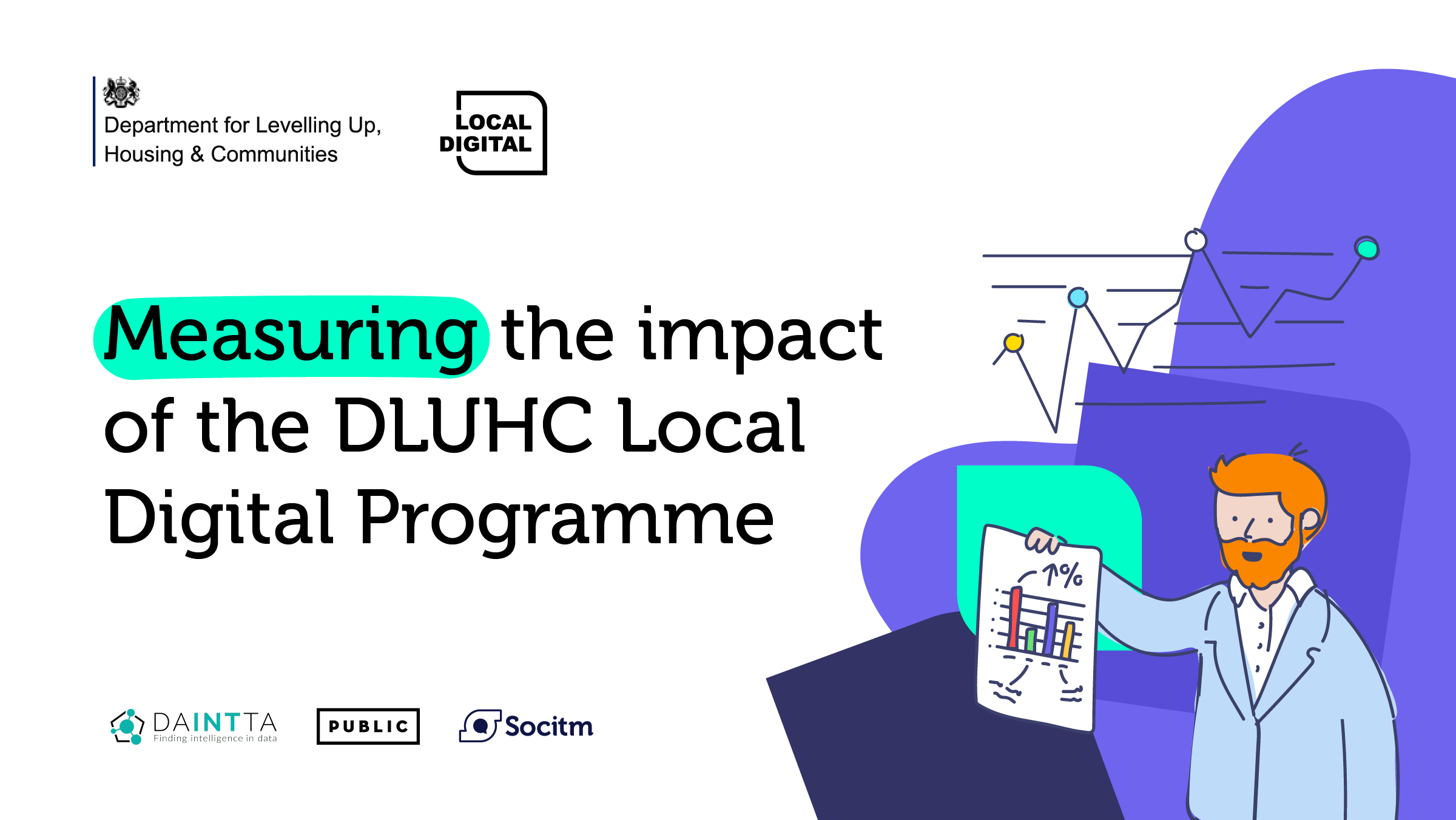 Local Digital evaluation study: A snapshot of our initial findings
In March 2023, we commissioned an independent evaluation of the Local Digital programme to understand the impact and value-for-money of the support we offer to local government.
To measure impact, the team is collecting information from a range of different councils using a variety of methods. In our latest blog post, we share some of the interesting findings from our evaluation so far.

Sector news and resources
LOTI Guidance on Generative AI for Local Authorities

LOTI has worked with its members and partners to create guidance for local authorities on Generative AI. The four new resources include one-pagers for local authority leaders and staff, a State of Play report, and guidance for Chief Information Officers (CIOs) produced with Faculty AI.

Sector events and training
Wednesday 18 October, 11am to 12pm
Local Digital Evaluation Survey - explainer session

Hosted by PUBLIC, this webinar will present the initial findings from the Local Digital Evaluation Survey. It will include a discussion of the main digital priorities and challenges faced by councils, as well as benchmarking on topics like cloud adoption, legacy spend, and service area transformation.
This will be a useful session for any council who completed the survey, to help them to benchmark their results, as well as anyone interested in the perspectives of other councils across the country.

Tuesday 7 November, 10am to 2:30pm
Scottish Borders Council: The Front Door to a Smart Connected Region

Scottish Borders Council's (SBC) Digital Connect Day will bring a closer look at SBC's remarkable journey of digital transformation and developments as a remote organisation. The Digital Connect Day will involve live demonstrations, and interactive seminars as they discuss their experiences and key learnings from redesigning public services. 
This free to attend event will be in-person at Inspire Learning in Tweedbank.
Thursday 30 November, 9am to 4pm
iNetwork's 20th Anniversary Annual Conference

iNetwork's 20th Anniversary Annual Conference will bring together a range of senior speakers and exhibitors, and will offer delegates a platform for networking. Phil James, Community Engagement Manager at Local Digital, will be providing an update from the team. We'd love to see you there.

The conference, which is free to the local public sector, will be in-person at the Hyatt Regency in Manchester and will be offering an online platform for anyone who would like to join virtually.
Local Digital
Copyright © 2022 Department for Levelling Up, Housing and Communities (DLUHC), All rights reserved.
Our mailing address is:
Department for Levelling Up, Housing and Communities (DLUHC)
2 Marsham Street
London, SW1P 4DF
United Kingdom

You have received this email because you either gave permission to be added to our mailing list through a Department for Levelling Up, Housing and Communities (DLUHC) event registration form, by asking a DLUHC staff member to add you, or because you signed up to the mailing list directly. We use the personal data you submit (contact information and news preferences) to send you news through this mailing list. We do not share your information with any other organisation.
If you no longer wish to receive emails, please unsubscribe using the link below. This will cause your information to be deleted from our records.
Unsubscribe from this mailing list.