The Local Digital Newsletter
17 October 2023
Welcome back to the Local Digital newsletter! In this issue, you can join DLUHC's Digital Recruitment Days to learn about our exciting digital careers, and it's your last chance to have your say on our Future Councils problem statements. There's also a range of sector events you can sign up for. 
Local Digital and DLUHC news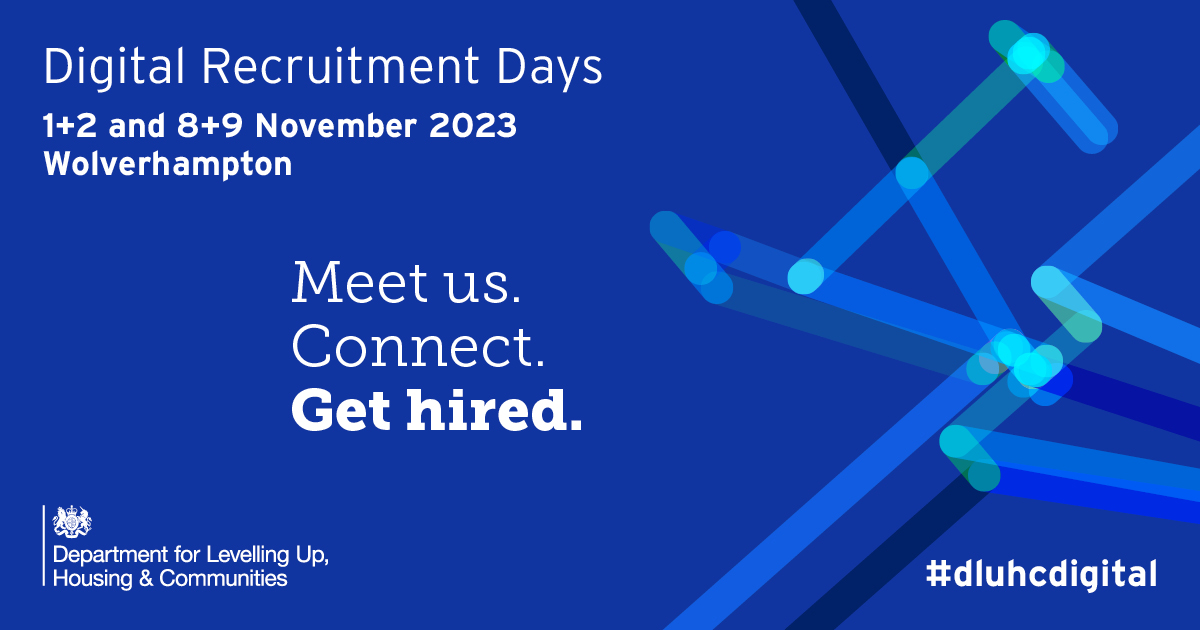 Join DLUHC's Digital Recruitment Days in the West Midlands
On 1, 2, 8 and 9 November, the DLUHC Digital team will host its first Digital Recruitment Days at the Molineux Stadium in Wolverhampton.
Our Digital Recruitment Days will offer an opportunity for digital professionals on the lookout for a meaningful and exciting career to connect with our digital teams and potentially get hired.
Each day will be dedicated to different roles and we'll welcome Product Managers, Delivery Managers, Business Analysts, User Researchers, Live Service Managers and Technical Architects. Whether you have years of experience under your belt or are just starting your career - we'd love to meet you. If you have any questions please contact our recruitment team.
Sector news and resources
Sector events and training
Wednesday 18 October, 11am to 12pm
Local Digital Evaluation Survey - explainer session

Hosted by PUBLIC, this webinar will present the initial findings from the Local Digital Evaluation Survey. It will include a discussion of the main digital priorities and challenges faced by councils, as well as benchmarking on topics like cloud adoption, legacy spend, and service area transformation.
This will be a useful session for any council who completed the survey, to help them to benchmark their results, as well as anyone interested in the perspectives of other councils across the country.

Wednesday 18 to Friday 20 October, 11am to 12:30pm, via Teams
UKAuthority AI & Data4Good

The importance of data to improving public services has long been recognised but issues remain around the quality of data, standards for integration, information governance, and the development of both skills and confidence in data use.
This UKAuthority event will explore how best to use data to deliver valuable insights on people, places and organisations and build a foundation for effective, reliable AI. It will bring together public sector leaders to share examples of what can be achieved. There will also be an opportunity for discussion and Q&As. 
Hear from key speakers from Socitm, Swindon, AWS, Hertfordshire, ODI, NHS England, and DLUHC's own Chief Data Officer Tom Smith.

Thursday 26 October, 2pm to 3pm
AI and Cyber Security webinar with the LGA & Microsoft

The LGA are holding a webinar with Microsoft exploring how Security Copilot and other processes can reduce the risk of cyber attacks and improve overall security effectiveness. This event is suitable to those working in IT teams in a council with a Microsoft E3 or E5 licence.
Thursday 30 November, 9am to 4pm
iNetwork's 20th Anniversary Annual Conference

iNetwork's 20th Anniversary Annual Conference will bring together a range of senior speakers and exhibitors, and will offer delegates a platform for networking. Phil James, Community Engagement Manager at Local Digital, will be providing an update from the team. We'd love to see you there.

The conference, which is free to the local public sector, will be in-person at the Hyatt Regency in Manchester and will be offering a virtual joining option.
Local Digital
Copyright © 2022 Department for Levelling Up, Housing and Communities (DLUHC), All rights reserved.
Our mailing address is:
Department for Levelling Up, Housing and Communities (DLUHC)
2 Marsham Street
London, SW1P 4DF
United Kingdom

You have received this email because you either gave permission to be added to our mailing list through a Department for Levelling Up, Housing and Communities (DLUHC) event registration form, by asking a DLUHC staff member to add you, or because you signed up to the mailing list directly. We use the personal data you submit (contact information and news preferences) to send you news through this mailing list. We do not share your information with any other organisation.
If you no longer wish to receive emails, please unsubscribe using the link below. This will cause your information to be deleted from our records.
Unsubscribe from this mailing list.